THE SACAN CATALOG
※Click the images to view enlarged versions.
Download Catalog data (PDF 3.8MB)
Download LARGE JPEG data (ZIP 16.8MB)
Sizes
・Full size: 50 cm × 50 cm
・2/3 size: 35 cm × 35 cm
・1/4 size: 23.5 cm × 23.5 cm
※ Sizing is different for the Hon-Tsuchikabe Yonshokusoroe
---
Work : Kazaguruma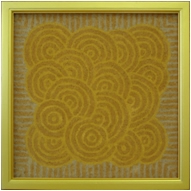 Explanation : This is a work with a motif of pinwheels, which are Japanese toys made by paper and bamboo. First, earth is daubed, and pinwheel design is line-engraved on the surface. Then different colored earth is put in the grooves, and scraped away afterwards. This is a very time-consuming technique.
—–
Work : Kaga-goromo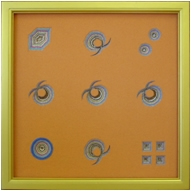 Explanation : When the wall of a Japanese house is freshly plastered, materials are put on the wall after removing the previous coat. However, sometimes the new material is recoated over the previous coat. In this case, if there is an opening on the wall, the undercoat peeks through a chink and it looks like a twelve-layered ceremonial kimono from ancient times. It was given the name "Kaga-goromo (Kaga robe) with this in mind.
—–
Work : Sagano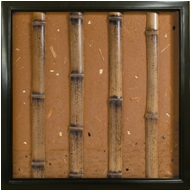 Explanation : Bamboo is abundant in Japan, and bamboo groves create a purely Japanese atmosphere. The bamboo groves in Sagano, Kyoto are especially famous. Landscapes with the ground and bamboos are designed in "Sagano."
—–
Work : Otsu Akane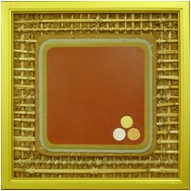 Explanation : A lath or a thin narrow strip of wood and bamboo is used as a foundation for a Japanese wall. A mixture of clay and straw is daubed on the latticework, and this becomes the foundation of the wall which is called "Arakabe" or a rough coated wall. On top of that, after repair work to smooth unevenness on the surface, a middle layer of plaster is applied, and finally a finish coat is also applied. The best is attained in polished plaster wall finishes, and the technique of "Otsu-migaki" is a typical example of such finishes. This work represents the process of plastering, using the color madder red. Finally the red color of Otsu-migaki is attached as a finishing touch.
—–
Work : Yuyake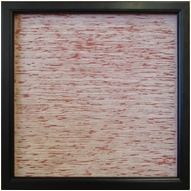 Explanation : Our company is located in Ishikawa Prefecture, which has the Noto Peninsula protruding into the Sea of Japan. Suzu City is at the tip of the peninsula, and diatomaceous earth is found there. It is made when dead diatoms, or plant plankton accumulate for years and are fossilized. It retains the porous cell structure of the original algae, thus functioning as an excellent absorbent, thermal and acoustic insulator, and deodorant, and it has recently been used as a material for walls. In this work, after the red earthen wall is plastered and dried, diatomaceous earth from Noto is applied. It is then applied with horizontally comb-grooved decoration before it is dried, to resemble wisps of cloud in the sky aglow with the setting sun.
—–
Work : Sazo-Shichiso"Sazanami"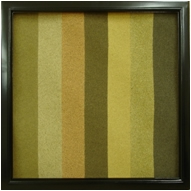 Explanation : While earth is the chief material for earthen walls, sand can be also used as a finishing coat for sand walls. This work uses seven different kinds of indigenous sand from seven beaches along the Sea of Japan. The different tones of natural color are applied onto the foundation with a rolling ripple marked design, giving a three-dimensional appearance to the design.
—–
Work : Sazo-Shichiso"Sakyu"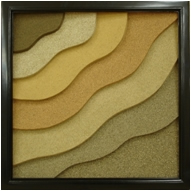 Explanation : Sand is used as a finishing coat in this work, too. The foundation portrays wind patterns on the sand dune with a distinct gradation of colors.
—–
Work : Tsuchi-no-Hono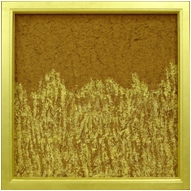 Explanation : Gold leaf is one of the traditional products of Kanazawa. In this work, gold leaf attached to the diatomaceous-earth foundation with glue is likened to a flame.
—–
Work : Karesansui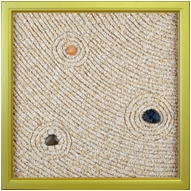 Explanation : Karesansui is a Japanese rock garden, an enclosed garden containing sand and rocks which represents a landscape without using water. This work, as the title shows, uses pebbles of different sizes to represent karesansui using the plastering art. The sand patterns depict flowing water.
—–
Work : Namban"Yuhi"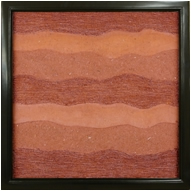 Explanation : "Nanban" or "Nanba" is a kind of plaster and the plaster in which mud or sand is added to the usual ingredients of lime, fibers, and glue. This is referred to as "Nanba plaster". It is used for foundations on which roof tiles are placed. Unlike the smooth surface of ordinary plaster, the surface is rough due to the texture of the mud or sand. This work depicts a rosy cloud glowing with the splendor of the setting sun, with a red tint mixed into the Nanba plaster. Using the finishing techniques of "applying pressure with the trowel with one side raised", "stroking with the trowel with one side raised" and a "dragging the trowel", different textures can be seen to have different tinges at a distance.
—–
Work : Kabutomeji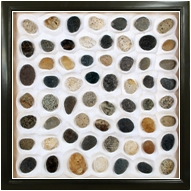 Explanation : Tapered joint finishing is called Kabuto meji (war helmet joint) or Tokin meji (Buddhist hood joint). This uncommon technique is sometimes used in the earth floor in residents for high ranking people such as court nobles and the Imperial Family. In this work, cobble stones are surrounded by a white plastered background texture using the Kabuto meji finishing.
---
CONTACT US
[contact-form-7 404 "Not Found"]