Harmony between technique and tradition.



Earth, sand, plaster, diatomaceous earth.



—Plaster art created with natural materials.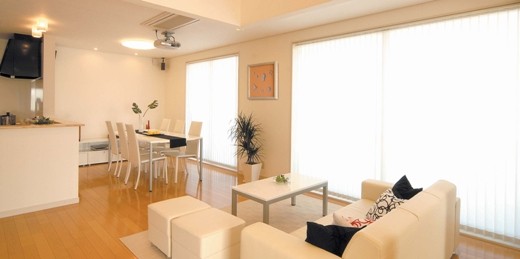 Artisan techniques, handed down through


generations, give life to new traditions.
There is a great variety of techniques available for producing a diverse range plasterwork. Works include those created with diatomaceous earth, which has excellent moisture absorption and retention qualities, works created using the rammed earth technique employed in strengthening Japanese earthen walls and foundations to produce alternating layers of colored clay, those made from natural earthen materials highly valued for their scarcity, such as Kyoto and Ishikawa clay, and black clay produced in China, a material not currently obtainable, and works created with highly unique materials featuring non-replicable patterns produced by dropping ink onto the surface of water which are then transferred to the material.
These days, condominium and apartment buildings or suburban houses featuring artistic walls that express Wa—the Japanese concept of peace and harmony—are a rare sight. THE SACAN are not only an easy way to enjoy first hand the unique value of these materials, they can also be used to create a soothing atmosphere that matches to particular feel of any western or Japanese style room. Isurugi continues to pursue new designs that bring tradition alive to create interiors that express the heart and soul of Japanese identity and sensibility.
The Origins and History of Japanese Plasterers
The word sacan, literally plaster, is said to have originated when the emperor bestowed this title upon Hatao Koze who built the earthen wall of the outer bailey around the imperial palace in 645 A.D. Plasterwork came into prominence between the Azuchi-Momoyama and the Edo periods, and plasterers continued to develop their art seen in places such as the whitewashed outer baileys of castles such as Himeji Castle, also known as the White Herron Castle, earthen walls used in teahouses, and plaster engravings and namakokabe (a tradition wall finishing) seen in the flourishings on storehouse shutters.
The Decline of Plasterers and New Opportunities
As Japan moved into its period of rapid economic growth, construction schedules were shortened, emphasis was placed on quotas and economic growth, and new materials that were both cheap and easy to use were popularized. This lead to a waning of those skills and techniques that had been so carefully handed down, and a decline in the number of skilled artisans. However, with the advent of problems such as sick building syndrome, attention was focused on the relationship between humans habitat and health, and recent years have seen people take another look at the value and favorable qualities of plastered walls.
THE SACAN
THE SACAN allow plasterwork artisans to exhibit, within a set frame, the full range of techniques and designs available for finishing plasterwork, something we normally only see on walls. This provides an opportunity to communicate to those that view the pieces the highly refined nature of plasterwork techniques as well the texture and beauty of earthen walls and plaster materials, something that we are seldom able experience in modern times.
Brand Certification
THE SACAN were certified as an Exceptional Ishikawa Brand Product by Ishikawa Prefecture on May 18, 2006, and as an Exceptional Kanazawa Brand Product by the City of Kanazawa on July 3 of the same year, establishing them as a genuine brand-name product from local industry.
Awarded the President of Confederation of Ishikawa


Chambers of Commerce and Industry Prize in


The 34th Ishikawa Prefectural


Design Exhibition
The 34th Ishikawa prefectural Design Exhibition was held in the lobby of the 19th observation floor of Ishikawa Prefectural Government Office Building from September 28 to October 1, 2007. "THE SACAN" received "The President of Confederation of Ishikawa Chambers of Commerce and Industry Prize" in the competition section (Industrial Design/Industrial Art Design/Communication Design/ Spatial Design), and both Hiroichi Isurugi, Executive Managing Director, who is the inventor of the plastering art, and Koh Nakamura, Junior Manager of Art Work Department, who is the creator of the work, were awarded.
The ingenuity of a great variety of plastering finish enthralled the judges. The elaborate technique and refined artistry of Koh Nakamura, the creator, was concentrated within the about fifty-centimeter-square frame. "THE SACAN" was awarded for its high artistic quality and excellence in design.